Report Sample for Super Value Package subscribers
The detailed POST Analytics report serves as a directional tool to realign POST and plan a meaningful engagement. Besides providing insights to strategize in export market, it also creates potential database for future engagements.
We are pleased to share current POST status.
Note: The figures, recommendations etc. indicated in below report are just for sample purpose
POST(s) current Status/ Mode:
a) LIVE: 1
b) Pending/Draft/ Testing/ Trial Mode: 0
Consolidated Summary (By Operations Team);
a) Unique Views *: 4000 (approx.)- Approx. Cost per View: 0.02USD
b) Engagement Rate 1: Europe 12% USA 10% ; GCC countries: 50% ; Japan/Korea 8%
Others (India / South America/ South East Asia etc.) – 20%.
Total PINS. (Active Social Pins/ Notifications/ Internal circulation on selloverseas.com network in same business category)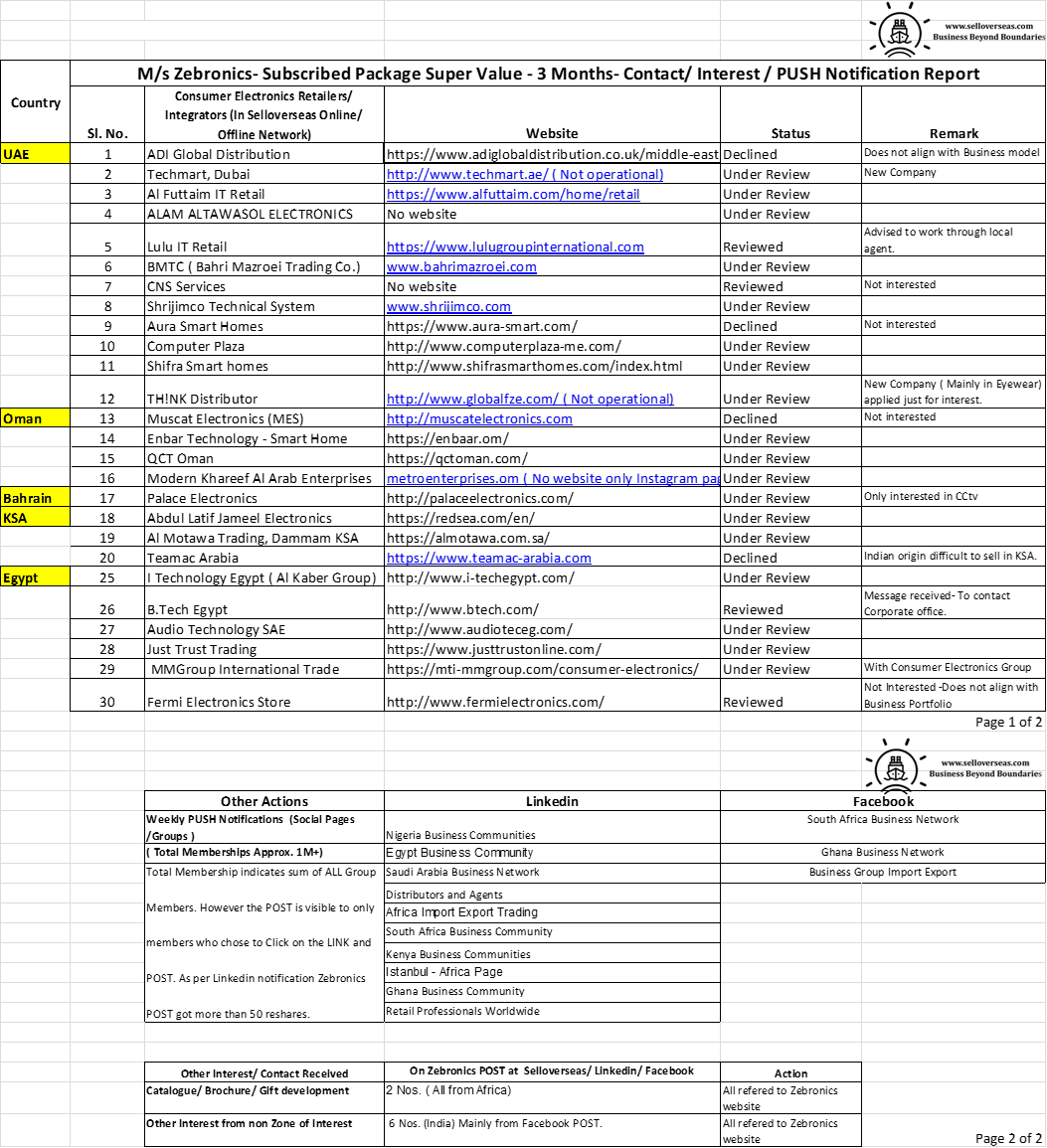 c) Interest Request/ Message (Total Nos.): 33 Nos.
From Registered Users in Targeted Business Category and country: 17 Nos.
(Already delivered in your Dashboard)
d) Non targeted business categories and countries: (Can be shared upon request)
e) Due Diligence- Not subscribed.
* Unique Views means where real Viewers clicked Full Description excluding internal operation team/ & web crawlers.
1 Engagement Rate means Geo location of Unique Visitors who read the POST in Full
Our Industry Expert Inputs/ Recommendations;
Many of our network members in GCC & Africa markets expressed limited Recognition/ Awareness of Zebronics BRAND. Also Indian origin is facing some bias/ low quality perception especially in GCC countries (2 network members simply declined to explore further indicating Indian origin).
In view of above we would suggest explore below options;
Option 1 : Zebronics can explore to tie up with a company having extensive reach in GCC markets & prominent space at major retail outlets. For example company like Denaster Trading (http://www.denaster.com/). Denaster Trading Company seems to have extensive logistics network and reach among Consumer Electronics retailers in GCC markets (including Duty Free shops at all GCC airports).
There are few more with similar profile. As per our experience they generally ask for special terms such as exclusivity/ most competitive price confirmation etc. Zebronics team may approach directly M/s Denaster for further discussions or may engage Selloverseas.com team to promote Zebronics portfolio.
Option 2:
It would be ideal to divide offer portfolio in 2 parts – 1st Portfolio for retail ( such as IT /Gaming/ Audio accessories etc.) as selling route is directly to consumers and 2nd Portfolio Integrator Based such as CCtv/ UPS/ Home Automation offer as selling route is through solution partners such as contractors/ OEMs & normally includes AMCs ( Annual Maintenance Contracts).
B. Depending on comfort level of Zebronics management; it would be helpful if international Distribution/ Retail agreement/ contract & price list can be shared with us.
Feel free to get in touch with for us any further input/ clarification or if you feel other services are more suited to your needs.
Thanking you and assuring you of our best services always.